Many times you may find that your friend has a great Android App which you wish could be there on your Android Tablet / Mobile Phone. The Android App presented here lets anybody share any installed Android App to other Android Mobile or Tablet using various methods such as by Bluetooth, WiFi Direct (For Android 4.0 onward), Copy the Android App installation file to external SD Card or even send the Android App by email. The Android Apps are distributed as files with .apk file extension. On you have installed any Android App, a copy of the installation file is saved onto your Android System Folder which can be easily backed up or shared with other Android Devices.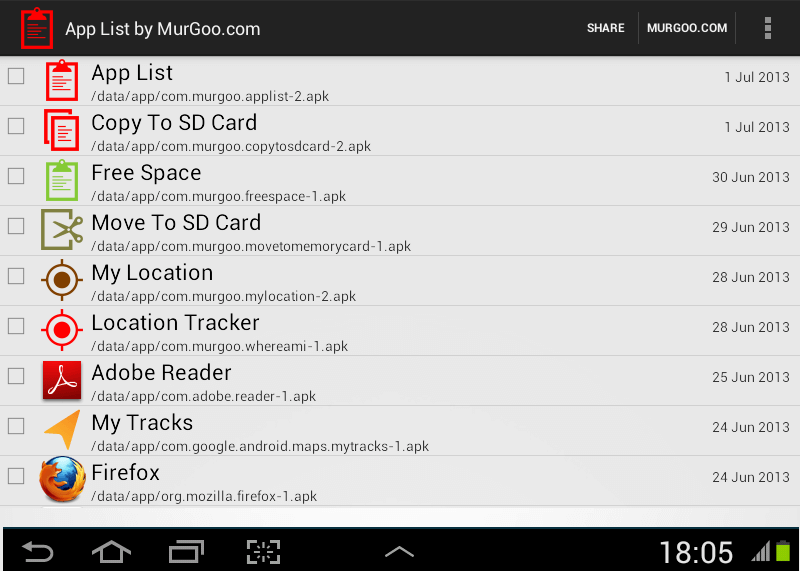 Share Android Apps
Yes Android Apps are best installed from Google Play Store, but not every device may be connected to internet and searching for a particular Android App on Google Android Store can take a while. The Android App presented here lets you instantly share any of your installed Android App with others. You can even make a backup of your Android Apps installed, however if there is any data associated with a particular Android App, it does not gets shared. Effectively sharing an Android App with this App List Tool lets you share only the Android App Installer and nothing else.
Apart from sharing an Android App with this App List Tool, you can view the Android Apps installed on your Android Phone / Tablet in a date wise sorted manner. This can be really helpful when you wish to know which Android Apps you have installed recently. Another great feature about this Android App is that you can select and uninstall multiple applications easily and quickly. A Long Click on any of the Installed Apps name will invoke the Uninstaller which will uninstall the selected application.
In order to download this Android App List Tool, you would need to download it from Google Play Store, where you can search for the word MurGoo and quickly install this Android Applications List Tool. Once you have installed this Android App on your Android Phone / Tablet, you can send this tool to your friend(s) just like you can send any other Android App. In case you would like to copy any of your installed Application Installers to external Memory Card, use the Copy Files on Android to External Memory Card Tool or simply use the built in functionality to copy the selected Android Apps to external SD or Memory Card. Sharing Android Apps with this App List Tool is really easy and fast and does not needs Internet Access.